Eurosofa
3.5 Seater W/2 Elec-Recliner Sofa in Full Leather | Tevla
Sale price

$3,599.00

Regular price

$5,598.00
Tevla 3.5 Seater W/2 Elec-Recliner Sofa
Take a load off and experience ultimate comfort with the Tevla 3.5 Seater Sofa. With its adjustable headrest and two electrically reclining seats, you'll be able to find the perfect angle for you. The full leather material adds to its comfortability and style. For a relaxed look with modern flair, choose Tevla.
Dimension: L250xD103xH70cm
Full Bovine Leather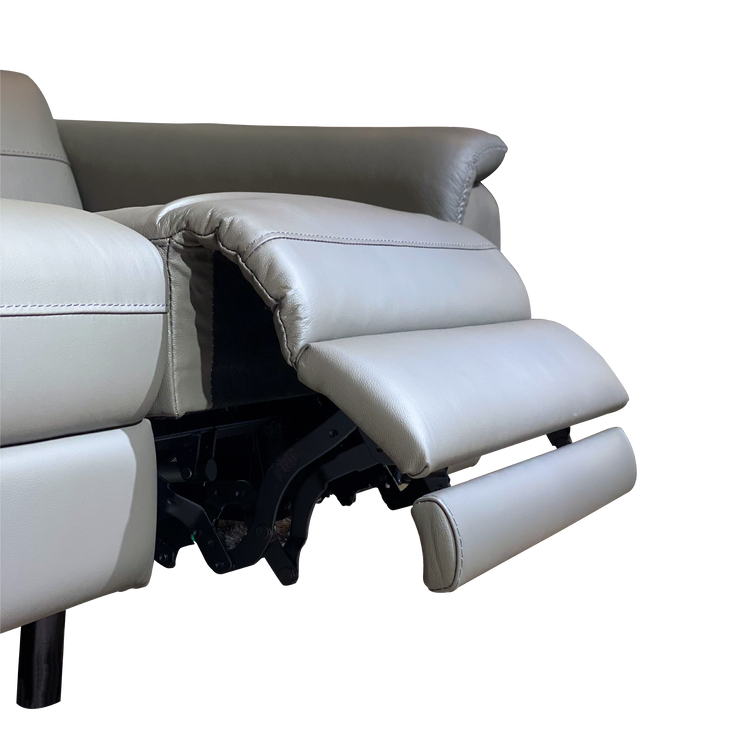 Top-Grain Leather
Top-grain leather is a high-quality type of leather that comes from the top layer of animal hides, usually from cows. It's considered one of the most desirable types of leather due to its durability, natural appearance, and relatively minimal processing.
Top-grain leather is considered the best for furniture, because it allows for a uniform look that's still natural and authentic. It is more durable than bonded and corrected leather, can last for several years and the added top-layer can withstand large amounts of pressure, stains, and natural wear and tear.Top-grain leather is more expensive, but it's the leather to choose if you want a high-quality leather sofa.
Start Your Leather Sofa Journey Here
Get Inspired by the Best Designs from Italy and Europe

As the leading experts in leather sofas, we take pride in presenting the latest and most stylish line-ups of sofas to you. From the trendy modern-contemporary look to the niche mid-classic industrial look; we have a unique sofa design catered for the style of your choice. Our line-up of sofas are meticulously chosen with each design showcasing different elements and styles.

Only Top Quality Materials

Each sofa or recliner is especially crafted with care and detail. Our sofas are designed and handcrafted by experienced craftsmen with more than 25 years of experience. For sofas, only top quality kiln-dried meranti wood is used; for recliners, only OKIN recliners from Germany are used. Our strict quality policy ensures that only top quality materials are used in our products.

European Designs Catered for Asian Seating

If you have noticed, our dimensions are in line withe the Asian market. All our designs originate from Italy and Europe with ratios and sizes customised to the Asian market. Shorter dimensions are used for seats and seat comfort is on the firmer side to cater for the Asian market preferences.

Tapered Configurations and Colour Choice

We offer multiple configurations but not full customisation on sizing. This is because a golden ratio is adhered to when it comes to sofa dimensions such that the piece of furniture is aestatically pleasing. Choose from more than 20 unique colours of genuine leather create your dream couch.